Downtown LA: 23 Restaurants Found
Address: 1100 South Flower Street, Los Angeles, CA 90015 (
Map
) - Tel:(213) 763-4600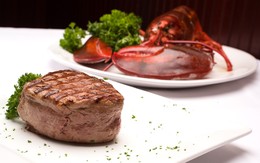 The Downtown Los Angeles location of the esteemed Palm empire of restaurants offers fine steaks, seafood, and Italian specialties in a posh setting. Located at 1100 Flower Street in an enormous space, formerly a Packard car dealership, the Palm Downtown is the largest in the country. Since 2002 The Palm Downtown has managed to execute the same stellar food that original owners Pio Bozzi and John Ganzi started serving three generations ago in New York City. Today, The Palm Restaurants are still a family business run by the original owners' great-great-grandsons.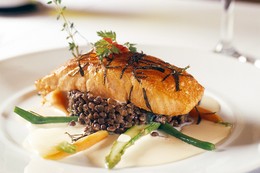 Adelmo Zarif's restaurant has occupied a dazzling Art Deco space in downtown's historic core since moving from West Hollywood in May 1997. Cicada fills the bottom two stories of the Oviatt Building, featuring towering mahogany pillars, plenty of gold, and pristine white tablecloths. Cicada is a fine-dining establishment that's especially popular for birthdays, weddings and the occasional marriage proposal. Tokyo native Suzay Cha prepares northern Italian cuisine with Asian accents. The menu changes twice a year, but typically includes Ahi Tuna Tartar with Avocado, Piquillo Peppers and Wasabi Caviar and Pappardelle with Filet Mignon Bolognese Sauce.
Address: 700 West Fifth Street, Los Angeles, CA 90071 (
Map
) - Tel:(213) 239-6500
Dining on the patio of Café Pinot gives guests a grand view of the urban skyline and the lush romantic Central Library garden located in Downtown LA. Enjoy warm afternoons and summer nights out on the terrace, while eating Café Pinot's French-California cuisine. This restaurant is perfect for dining before an event at the Staples Center or the Music Center because of its close location. A delicious Café Pinot dish to try is the Three Mustard- Crusted Farm-Raised Rotisserie Chicken with crispy Pinot fries. If guests decide to have lunch at Café Pinot, then get the Pan-Seared Prime Hanger Steak Salad served with sweet tempura onion, arugula, tatsoi, and a frisee and herb salad.
Address: 544 South Grand Avenue, Los Angeles, CA 90071 (
Map
) - Tel:(213) 891-0900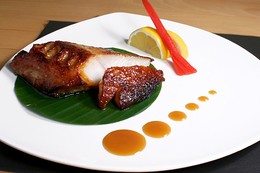 Focusing on fresh, quality ingredients, Water Grill offers some of the most exquisite seafood in Southern California. The secret is in the quality, as well as in Executive Chef Davide LeFevre's respectful preparations that allow natural flavors to shine. Warm décor, cozy booths, and colorful art ensure ultimate comfort, while temptations like Dungeness and Blue Crab Cake with lime-yogurt cucumber sauce and herbed cous cous and Butter Poached Maine Lobster with morel mushrooms, haricot verts and crispy shallots offer decadent indulgence.
Address: 108 West 2nd Street, Los Angeles, CA 90012 (
Map
) - Tel:(213) 808-1200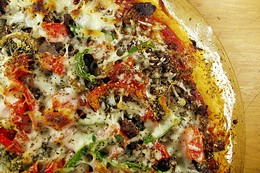 After seven years of success in the North Hollywood Arts District, Paul Hibler and David Sanfield took their Pitfire Pizza concept downtown in 2005. Across from St. Vibiana's Cathedral and in the shadow of skyscrapers, office workers flood this modern Italian café at lunch for thin-crust pizzas, hearty pastas, and market-fresh salads. At night and on weekends, the rush subsides and Pitfire offers a more relaxed dining experience with the same value. Order at the counter, where a board lists seasonal specials and fresh-baked desserts are on display. To drink, there's fresh sangria and watermelon lemonade, plus wine and beer.
Address: 333 South Grand Avenue, Los Angeles, CA 90071 (
Map
) - Tel:(213) 620-9662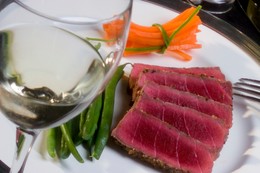 Located on the 54th floor of the Wells Fargo Center in Downtown Los Angeles, Club City on Bunker Hill offers exquisite, contemporary themed private venues for events such as Weddings, Anniversary Parties and Business Meetings. Overlooking the ever-buzzing Los Angeles, this high-rise space can transform to match the theme of your event. The staff is complete with wedding professionals, serving to help you plan your event—they can even customize your catering menu, which can be acquired through City Club. With a stress on exceptional service, attention to detail, and upscale food and wine selections, City Club on Bunker Hill is a unique, opulent and elegant setting for your next private event.
Address: 1050 Flower Street # 167, Los Angeles, CA 90015 (
Map
) - Tel:(213) 747-1100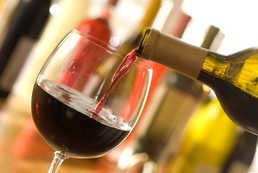 BottleRock's philosophy is simple: "passion about wine, beer, food, and the subtle intermingling and fusion of tastes." This idea pervades the entirety of the wine bar's menu. Bottle Rock presents an extensive wine list alongside an inventive selection of appetizers, entrees, desserts, and cheeses. The Los Angeles hotspot has two locations: one in Downtown and the other in Culver City. Both locations are part tasting room, part wine retailer, and part quick bites. BottleRock also carries handcrafted beers and sake, and the venue encourages guests to explore new flavors and combinations. Their food menu changes seasonally and is presented to patrons within a sleek, chic, and modern décor. Also, BottleRock hosts wine tastings, community and private events, and it is available for catering.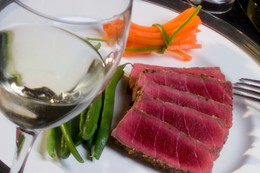 Located at the intersection of West 12th Street and South Grand Avenue in Downtown Los Angeles, Cork Bar has quickly emerged as a trendy wine bar and Los Angeles venue. The restaurant serves a variety of inventive and exciting dishes all crafted from the freshest ingredients found at local farmer's markets. Cork Bar is committed to providing customers with a genuinely enjoyable wine tasting experience. In an effort to achieve this, they present guests with wine pairing ideas on their food menu, offer around 40 wines by the glass, and even more by the bottle. This Downtown Los Angeles hotspot serves a seasonal menu that constantly showcases new creations. Cork Bar also hosts events, happy hours, and is a hip venue to bring a date or relax with a group of friends.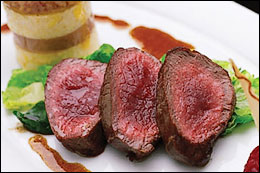 Patina in Downtown Los Angeles holds the philosophy that a selection of fresh, quality ingredients is the most important factor to a good dish. This guides the kitchen staff in practice, as they creatively and skillfully fuse quality ingredients with exceptional technique and stunning presentation. The result is dishes such as Herb Steamed Wild Bass with yellow "brandywine" heirloom tomato broth, sauce vierge, braised scallions, and tomato fondue, and Scottish Pheasant with Savoy cabbage timbale, rustic bread dumplings and juniper berry reduction. The dining experience is peppered with details that make for a truly elegant meal, from the caviar and cheese carts to the luxurious atmosphere inside the Walt Disney Concert Hall, which functions as "quiet haven from everyday life."
Address: 506 South Grand Avenue, Los Angeles, CA 90071 (
Map
) - Tel:(213) 624-1011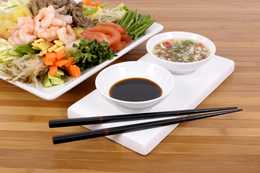 Sai Sai's menu is an exercise in culinary play. Tucked inside the Millenium Biltmore Hotel, this sophisticated restaurant stands out with its adventurous gastronomic creations, Zen-inspired décor, and eager staff. Chef David Bartnes has crafted a daring Asian fusion menu, seamlessly blending distinctive regional cuisines into a global pastiche that is both strikingly original and evocatively familiar. Exotic experiments like Kobe Short Ribs with Potato Gnocchi or the pairing of maguro sashimi with caramelized pear are surprising and satisfying. With noteworthy lunchtime bento boxes, prix fixe menus for theater goers, and in house infused sakes, Sai Sai supplies a variety of tantalizing dining options.