Il Cielo - Wine List
Il Cielo wine list is not available.

Recommended Restaurants
Address: 1100 South Flower Street, Los Angeles, CA 90015 (
Map
) - Tel:(213) 763-4600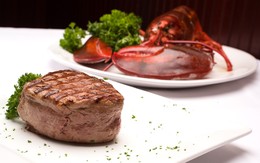 The Downtown Los Angeles location of the esteemed Palm empire of restaurants offers fine steaks, seafood, and Italian specialties in a posh setting. Located at 1100 Flower Street in an enormous space, formerly a Packard car dealership, the Palm Downtown is the largest in the country. Since 2002 The Palm Downtown has managed to execute the same stellar food that original owners Pio Bozzi and John Ganzi started serving three generations ago in New York City. Today, The Palm Restaurants are still a family business run by the original owners' great-great-grandsons.
Address: 55 North La Cienega Boulevard, Los Angeles, CA 90211 (
Map
) - Tel:(310) 652-7673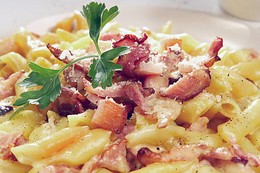 If your idea of a great meal is garlic, garlic, and more garlic, head to Restaurant Row on La Cienega and visit The Stinking Rose. Executive Chef and owner Andrea Froncillo has created a garlic lover's paradise, featuring great food in a wildly fun, garlic-themed atmosphere. Fantastic for large parties, the restaurant boasts a varied menu with specialties including roasted crab, prime rib, pastas, and giant tureens of steamed clams, all bathed in garlic. Don't forget to visit "Dracula's Grotto," one of many ornately decorated rooms, and to try Gilroy's Famous Garlic Ice Cream.
Address: 8400 Santa Monica Blvd, West Hollywood, CA 90069 (
Map
) - Tel:(323) 848-2360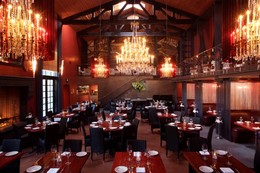 La Bohème rhapsodizes with a quintuplet of dazzling crystal chandeliers looming majestically overhead in a large, yet intimate two-tiered dining space. The semi-private booths downstairs and the rock star booths upstairs, along with the opulent ruby-red décor glimmering softly under the glow of two huge open fireplaces make this seductive bistro one of the a romantic destinations in L.A. Guests are also welcome to dine on the Garden Patio, Café La Boheme's own al fresco paradise, where they can bask in the warmth of a beautiful fireplace framed by roses and greenery. For more casual diners, the bar lounge offers a separate menu of tasty treats like the crispy fried calamari with Serrano aioli. This longtime retreat from the bustle of Santa Monica Boulevard boasts moderate prices and a globe-trotting menu that sweeps culinary terrain from comfort food to exquisitely sophisticated dishes. Executive Chef Christine Banta enhances her Californian Mediterranean cuisine with European and Asian flare, creating favorites like savory Japanese Pumpkin Ravioli and Ahi Tataki, while specialties like the Red Caviar Spaghetti, the Lobster Saffron Risotto, and the Berkshire Pork Chop offer a fine balance of familiarity in flavor and innovation in vision. Come to Café La Boheme, where patrons will receive a warm welcome, excellent service, and unrivaled cuisine. Be prepared to stimulate all of your senses at this prime establishment.