Beverly Hills: 39 Restaurants Found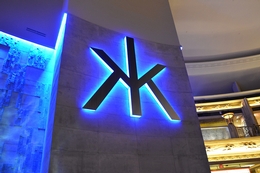 Hakkasan, the world renowned, international destination for fine Chinese cuisine has now established a location in the heart of Beverly Hills. Featuring 10,000 square feet of prime Los Angeles real estate, the newest addition to the Hakkasan brand of restaurants offers a vast main dining room with accommodations for up to 132 guests as well as The Lotus, an elegant private dining room with available seating for up to 18 guests. Latticed woodwork, known as the "Cage" generates a feeling of intimacy throughout the main dining room, and the full bar provides a secluded area for casual dining and sampling of creative libations on a first come first served basis. Michelin-starred Chef Ho Chee Boon leads the team in the kitchen, producing delicious dim sum and wok fired dishes that encompass the full spectrum of ingredients from vegetable and tofu creations to fresh fish, seafood, poultry, pork, beef, lamb and even venison. Plus, in consideration of Beverly Hills locals, the new location will feature many new signature items including several lighter fare selections. Diners will find a vast selection of hand-made cocktails and an impressive wine list showcasing a broad range of varietals from around the world to ensure that there will always be a drink to complement your meal. In addition, Hakkasan creates an elegant, relaxing ambiance, from the cool shades of blue, a trademark of the restaurant, to the ambient sounds, scents and lighting that transport diners to a distant place with no ties to the outside world. Ultimately, Hakkasan in Beverly Hills provides the perfect accommodations for any sort of gathering. Whether you are in search of a romantic experience for two, a casual encounter with friends, or a private event for business or celebration, the expert team of hospitality professionals and the unique, relaxing environment of Hakkasan will cater to the needs of all who step through the doors.
Address: 55 North La Cienega Boulevard, Los Angeles, CA 90211 (
Map
) - Tel:(310) 652-7673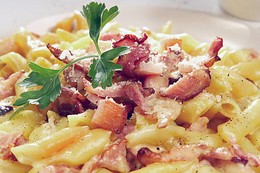 If your idea of a great meal is garlic, garlic, and more garlic, head to Restaurant Row on La Cienega and visit The Stinking Rose. Executive Chef and owner Andrea Froncillo has created a garlic lover's paradise, featuring great food in a wildly fun, garlic-themed atmosphere. Fantastic for large parties, the restaurant boasts a varied menu with specialties including roasted crab, prime rib, pastas, and giant tureens of steamed clams, all bathed in garlic. Don't forget to visit "Dracula's Grotto," one of many ornately decorated rooms, and to try Gilroy's Famous Garlic Ice Cream.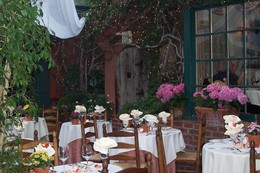 In this confection of a restaurant, Il Cielo presents a wondrously elegant and stunningly romantic setting that is sure to bewitch even the most cosmopolitan of patrons. Owner and Executive Chef Pasquale Vericella has meticulously created a destination restaurant where guests can bask in the charms of Il Cielo's visual beauty and revel in its exquisite Northern Italian cuisine. Nestled in a residential area of fabled Beverly Hills a couple miles east of Rodeo Drive, Il Cielo beguiles guests with a captivating romantic beauty created by its casually elegant décor, twinkling lights, and lush foliage.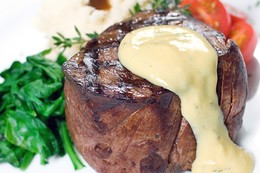 CUT restaurant, the newest addition to the Beverly Wilshire Four Seasons, has created a sense of chic within the hotel's former classically modeled dining room. Designed by architect Richard Meier, CUT is large, lustrous, and smooth, with oak floors, black-and-white trimmings, and curling vines budding alongside the walls of the two-level fortress. The menu offers USDA Prime, Kobe beef, and true Japanese 100% Wagyu beef from Kagoshima, all of which are complemented by an assortment of tangy sauces, an array of vegetables, and a smart wine list. The elegance of CUT is sure to impress.
Address: 454 North Canon Drive, Beverly Hills, CA 90210 (
Map
) - Tel:(310) 273-0501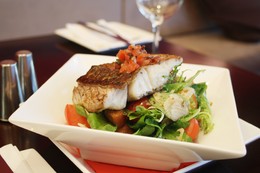 Ready for a bit of old world European charm? Look no further than Il Tramezzino. The quaint Italian café is a genuine place of culinary mastery and excellence. The restaurant distinguished itself amongst its Beverly Hills neighbors on "Restaurant Row" by preparing custom baked goods and traditional Italian cuisine. They have an extensive menu that is every bit as creative as it is delicious. Il Tramezzino invites guests to enjoy a temporary European vacation as they dine in a familial, laid back atmosphere with superb service. The restaurant serves breakfast, lunch, and dinner, delivers and caters. Head out to one of Il Tram's locations and fall in love with their succulent flavors, creative dishes, and welcoming atmosphere.
Address: 176 North Canon Drive, Beverly Hills, CA 90210 (
Map
) - Tel:(310) 385-0880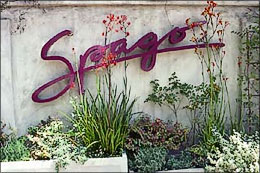 The flagship Wolfgang Puck restaurant offers cuisine that is at the forefront of the Los Angeles culinary scene. Executive Chef Lee Hefter is both inventive and playful, creating masterful combinations of the freshest and finest ingredients. Famous dishes include the Handmade Agnolotti with mascarpone, Chino Farms Roasted Beet Layer Cake, and Prime Côte du Boeuf for Two. The menu changes seasonally to showcase the best of California's produce, and the Chef's eight-course tasting menu is an ideal way to sample the best that Hefter has to offer at any one time. The chic restaurant is also known for its celebrity spotting, including Wolfgang Puck himself.
Address: 246 North Canon Drive, Beverly Hills, CA 90210 (
Map
) - Tel:310-888-8782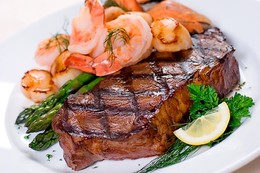 Dining at Mastro's Steakhouse in Beverly Hills is an opulent experience. Dishes feature the highest quality ingredients, cooked to perfection, and served in generous portions. Start off with their creamy lobster bisque and then try the "Chef's Cut" New York Strip. The ambiance is full of high energy with an undertone of elegance, with dark wood and subdued lighting throughout the dining room. Live entertainment and an extensive wine list add the final changes to an already exquisite dining experience. For a night of elegant dining in a luxurious setting, try Mastro's Steakhouse.
Address: 9641 Sunset Boulevard, Beverly Hills, CA 90210 (
Map
) - Tel:(310) 276-2251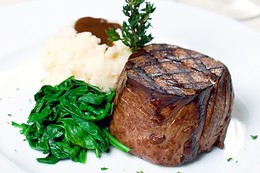 The Polo lounge, located in the Beverly Hills Hotel, has been a favorite for lunching socialites and Hollywood locals for generations. The lush dining room features massive booths surrounded by dark green and cream-striped walls, while the delightful patio is surrounded by flowering vines and pink archways. Serving a traditional yet elegant cuisine, the menu features favorites like honey-pepper cured smoked salmon and steak tartare.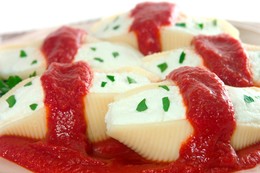 Another great restaurant from the Amici folks that has the great authentic Italian ambience and cuisine we all expect. The menu is filled with classics such as thin crust pizzas, many pastas, artichoke and hearts of palm salad, and the traditional osso buco.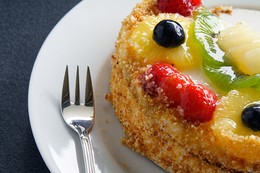 Since opening in 1956, La Scala has been popular with locals and entertainment industry types alike, with its comfortable red booths and drawings of Hollywood figures lining the walls. Traditional Italian fare is complimented by an exceptional wine list supplied by Owner Jean Leon's personal vineyard, Chateau Leon, in Spain. The restaurant is revered for its Chopped Salad, but other menu highlights include the Steamed Mussles served in a broth of garlic, white wine, and tomato sauce, and the Tiramisu served with fresh whipped cream and berries. The quality of ingredients has never faltered in the restaurant's long history, and it continues to set the bar for fine Italian fare in Beverly Hills.