Chinois on Main

Make a Reservation
Since 1983, Wolfgang Puck's Chinois on Main has been serving Asian Fusion cuisine to the hungry hordes in Santa Monica. The décor has not changed since the day the doors opened, but Chef Rena Mata presents a menu that features not only selections of dishes that made Chinois on Main famous, but some new additions as well. All dishes presents ingredients from the Far East, transformed into modern culinary masterpieces of daring and stimulating flavors. Dishes served family style include classics such as Whole Sizzling Catfish with ponzu, Shanghai Lobser, Mongolian Lamb with cilantro-mint vinaigrette, and the Famous Chinois Chicken Salad. House made desserts and Market Specials change with the availability of seasonal ingredients. The wide-ranging wine list offers wine pairing for every dish. Chinois on Main offers diners the chance to taste and experience a piece of California's modern culinary history.
---
---
Photos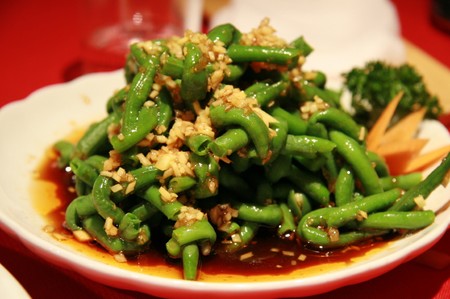 ---
Restaurant Info
Address:

2709 Main Street,

Santa Monica

CA

90405

Cross Street: Ashland Avenue
Category: Fine Dining
Reservations: Unknown
Parking: Street | Valet Parking |
Payment Options: VISA | Amex | MasterCard | Discover | Diners Club |
Corkage Fee: N/A
Website: http://www.wolfgangpuck.com/restaurants/fine-dining/3654
Phone: (310) 392-9025
Business Hours
Monday

| Dinner 6 p.m. - 10 p.m.

Tuesday

| Dinner 6 p.m. - 10 p.m.

Wednesday

| Lunch 11:30 a.m. - 2 p.m.
| Dinner 6 p.m. - 10 p.m.

Thursday

| Lunch 11:30 a.m. - 2 p.m.
| Dinner 6 p.m. - 10 p.m.

Friday

| Lunch 11:30 a.m. - 2 p.m.
| Dinner 6 p.m. - 10:30 p.m.

Saturday

| Dinner 6 p.m. - 10:30 p.m.

Sunday

| Dinner 5:30 p.m. - 10 p.m.
Features
Full Bar
Private Room
Wheelchair Access
Valet Parking
Lounge / Bar
Occasion
Dining Alone
Business Dining
Meet for a Drink
People Watching
Special Occasion
Trendy / Hip
---
F.A.Q. - Frequently Asked Questions
---
Map
Restaurant Address:
2709 Main Street,
Santa Monica
CA
90405
---
User Reviews