Aroma Bakery & Cafe

Make a Reservation
Located on Los Angeles' famous Sunset Strip and derived from the Latin word for 'fragrance' is Aroma Bakery and Café. Whether you're looking for a quick shot of espresso, a fresh mug of mint tea, a full 3-course meal, or just some dessert, Aroma café offers a little bit of the Mediterranean in the heart of Los Angeles. The café's authentic and flavorful dishes, drinks, and atmosphere transport each diner to the European coast for a one-of-a-kind dining experience. The focus is great service and delectable food. Their menu showcases everything from breakfast to dinner, and the daily specials are certainly among the plates to try.
---
---
Photos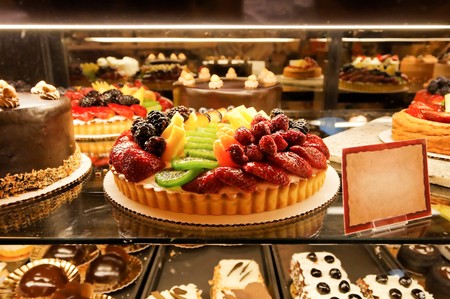 ---
Restaurant Info
Address:

7373 Sunset Blvd,

Los Angeles

CA

90046

Cross Street:
Category: Fine Dining
Reservations: Unknown
Parking: Street | Valet Parking |
Payment Options: VISA |
Corkage Fee: N/A
Website: http://www.aromabakery.com/losangeles.php
Phone: (323) 850-8120
Business Hours
Monday

| All Day 7 a.m. - 1 a.m.

Tuesday

| All Day 7 a.m. - 1 a.m.

Wednesday

| All Day 7 a.m. - 1 a.m.

Thursday

| All Day 7 a.m. - 1 p.m.

Friday

| All Day 7 a.m. - 1 a.m.

Saturday

| All Day 7 a.m. - 1 a.m.

Sunday

| All Day 7 a.m. - 1 a.m.
Features
Full Bar
Sunday Brunch
Late Dining
Catering Services
Outdoor Seating
Smoking Area
Takeout Available
Happy Hours
Lounge / Bar
Healthy Options
Occasion
Romantic Dining
Dining Alone
Business Dining
Meet for a Drink
People Watching
Special Occasion
Quick Bite
Trendy / Hip
Celebrity Spotting
---
F.A.Q. - Frequently Asked Questions
---
Map
Restaurant Address:
7373 Sunset Blvd,
Los Angeles
CA
90046
---
User Reviews