McCormick & Schmick's - Wine List
McCormick & Schmick's wine list is not available.

Recommended Restaurants
Address: 55 North La Cienega Boulevard, Los Angeles, CA 90211 (
Map
) - Tel:(310) 652-7673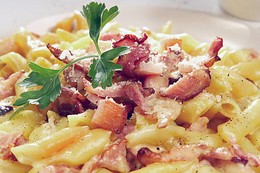 If your idea of a great meal is garlic, garlic, and more garlic, head to Restaurant Row on La Cienega and visit The Stinking Rose. Executive Chef and owner Andrea Froncillo has created a garlic lover's paradise, featuring great food in a wildly fun, garlic-themed atmosphere. Fantastic for large parties, the restaurant boasts a varied menu with specialties including roasted crab, prime rib, pastas, and giant tureens of steamed clams, all bathed in garlic. Don't forget to visit "Dracula's Grotto," one of many ornately decorated rooms, and to try Gilroy's Famous Garlic Ice Cream.
Address: 140 Pine Avenue, Long Beach, CA 90802 (
Map
) - Tel:(562) 495-1111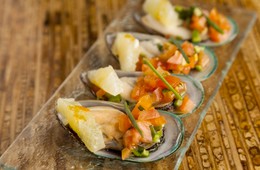 Rogelio and Janet Huidobro opened the first Café Sevilla in 1987, honoring their homeland with a Spanish restaurant in San Diego's Gaslamp Quarter. After finding additional success in Riverside, they launched in downtown Long Beach in 2006. Mid week, the old-world setting draws business types. Weekends attract a younger crowd for upstairs dancing and dinner shows. Café Sevilla specializes in pans of paella and traditional Spanish tapas. The reasonably priced wine list is especially strong on full-bodied Spanish reds like Tempranillo and Torre Oria.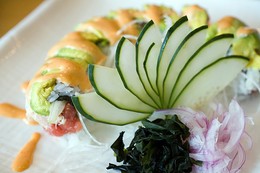 Nested in the center Newport's ritzy Fashion Island, Roy's offers a high-end dining experience which combines the freshest Pacific ingredients with European culinary techniques and Asian spices. While the service is not always spectacular, the food speaks for itself, from perfect lobster potstickers to perfect scallops to a dangerously palatable Hawaiian-style cosmopolitan. The atmosphere is dressy, yet comfortable, with a hipster musical playlist, older women wearing Chanel and pearls, and young girls in trendy boutique dresses. This is less of a place to be seen or treated like royalty, and more of a place to enjoy quality cuisine.