Rush Street - Wine List
Rush Street wine list is not available.

Recommended Restaurants
Address: 55 North La Cienega Boulevard, Los Angeles, CA 90211 (
Map
) - Tel:(310) 652-7673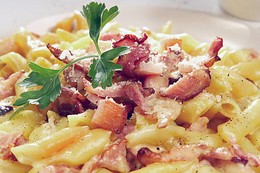 If your idea of a great meal is garlic, garlic, and more garlic, head to Restaurant Row on La Cienega and visit The Stinking Rose. Executive Chef and owner Andrea Froncillo has created a garlic lover's paradise, featuring great food in a wildly fun, garlic-themed atmosphere. Fantastic for large parties, the restaurant boasts a varied menu with specialties including roasted crab, prime rib, pastas, and giant tureens of steamed clams, all bathed in garlic. Don't forget to visit "Dracula's Grotto," one of many ornately decorated rooms, and to try Gilroy's Famous Garlic Ice Cream.
Address: 1212 3rd Street Promenade, Santa Monica, CA 90401 (
Map
) - Tel:(310) 576-9996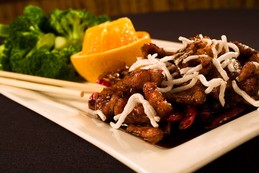 Dining at the Monsoon Café is a relaxing, spiritual experience provided by a unique atmosphere and fresh food. Even before diners walk through the door they are hypnotized by a pair of soothing yet intriguing eyes that adorn the front of the restaurant. The restaurant itself looks like a two story Eastern temple high ceilings and dazzling lighting fixtures, with lots of gold trim adorning columns and walls alike. There is plenty of seating in an open courtyard, with plenty of shade for even the sunniest days. Night is an exciting time at the Monsoon Café, with Salsa lessons and performances on Wednesdays and Saturdays and DJ battles on Friday nights.
Address: 1100 South Flower Street, Los Angeles, CA 90015 (
Map
) - Tel:(213) 763-4600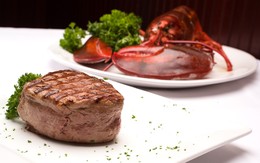 The Downtown Los Angeles location of the esteemed Palm empire of restaurants offers fine steaks, seafood, and Italian specialties in a posh setting. Located at 1100 Flower Street in an enormous space, formerly a Packard car dealership, the Palm Downtown is the largest in the country. Since 2002 The Palm Downtown has managed to execute the same stellar food that original owners Pio Bozzi and John Ganzi started serving three generations ago in New York City. Today, The Palm Restaurants are still a family business run by the original owners' great-great-grandsons.