Marmalade Cafe - Wine List
Marmalade Cafe wine list is not available.

Recommended Restaurants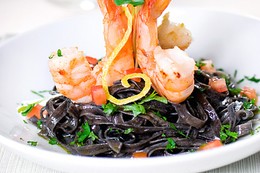 This Italian restaurant may seem like just any old option from the vast choices in Los Angeles, but this venue is known more their diversions that involve food rather than the food itself. Every once in a while on a special date Piccolo will have patrons enjoy a five course meal that is based off the wines they choose. It is a very random, mysterious game that is just right for the adventurous eater. For those seeking ambiance and serenity the restaurant's location with a great view towards the horizon will do just fine. Inside one can enjoy elegant dining including overhanging chandeliers. Private dining is also available just near the wine racks.
Address: 55 North La Cienega Boulevard, Los Angeles, CA 90211 (
Map
) - Tel:(310) 652-7673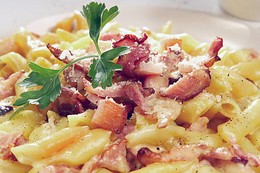 If your idea of a great meal is garlic, garlic, and more garlic, head to Restaurant Row on La Cienega and visit The Stinking Rose. Executive Chef and owner Andrea Froncillo has created a garlic lover's paradise, featuring great food in a wildly fun, garlic-themed atmosphere. Fantastic for large parties, the restaurant boasts a varied menu with specialties including roasted crab, prime rib, pastas, and giant tureens of steamed clams, all bathed in garlic. Don't forget to visit "Dracula's Grotto," one of many ornately decorated rooms, and to try Gilroy's Famous Garlic Ice Cream.
Address: 140 Pine Avenue, Long Beach, CA 90802 (
Map
) - Tel:(562) 495-1111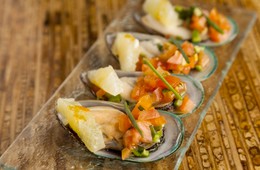 Rogelio and Janet Huidobro opened the first Café Sevilla in 1987, honoring their homeland with a Spanish restaurant in San Diego's Gaslamp Quarter. After finding additional success in Riverside, they launched in downtown Long Beach in 2006. Mid week, the old-world setting draws business types. Weekends attract a younger crowd for upstairs dancing and dinner shows. Café Sevilla specializes in pans of paella and traditional Spanish tapas. The reasonably priced wine list is especially strong on full-bodied Spanish reds like Tempranillo and Torre Oria.