Marmalade Cafe - Wine List
Marmalade Cafe wine list is not available.

Recommended Restaurants
Address: 8400 Santa Monica Blvd, West Hollywood, CA 90069 (
Map
) - Tel:(323) 848-2360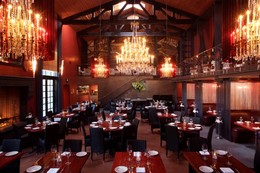 La Bohème rhapsodizes with a quintuplet of dazzling crystal chandeliers looming majestically overhead in a large, yet intimate two-tiered dining space. The semi-private booths downstairs and the rock star booths upstairs, along with the opulent ruby-red décor glimmering softly under the glow of two huge open fireplaces make this seductive bistro one of the a romantic destinations in L.A. Guests are also welcome to dine on the Garden Patio, Café La Boheme's own al fresco paradise, where they can bask in the warmth of a beautiful fireplace framed by roses and greenery. For more casual diners, the bar lounge offers a separate menu of tasty treats like the crispy fried calamari with Serrano aioli. This longtime retreat from the bustle of Santa Monica Boulevard boasts moderate prices and a globe-trotting menu that sweeps culinary terrain from comfort food to exquisitely sophisticated dishes. Executive Chef Christine Banta enhances her Californian Mediterranean cuisine with European and Asian flare, creating favorites like savory Japanese Pumpkin Ravioli and Ahi Tataki, while specialties like the Red Caviar Spaghetti, the Lobster Saffron Risotto, and the Berkshire Pork Chop offer a fine balance of familiarity in flavor and innovation in vision. Come to Café La Boheme, where patrons will receive a warm welcome, excellent service, and unrivaled cuisine. Be prepared to stimulate all of your senses at this prime establishment.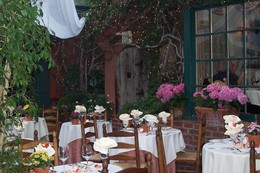 In this confection of a restaurant, Il Cielo presents a wondrously elegant and stunningly romantic setting that is sure to bewitch even the most cosmopolitan of patrons. Owner and Executive Chef Pasquale Vericella has meticulously created a destination restaurant where guests can bask in the charms of Il Cielo's visual beauty and revel in its exquisite Northern Italian cuisine. Nestled in a residential area of fabled Beverly Hills a couple miles east of Rodeo Drive, Il Cielo beguiles guests with a captivating romantic beauty created by its casually elegant décor, twinkling lights, and lush foliage.
Address: 231 Arizona Avenue, Santa Monica, CA 90401 (
Map
) - Tel:(310) 451-3525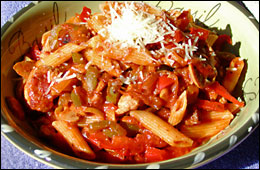 Locanda del Lago serves authentic cuisine from Bellagio and the Lake Region of Northern Italy. This Santa Monica locale overlooks Third Street Promenade and brings a taste of Italy to this coastal town. Since its opening in April of 1991, Lago has provided some of the tastiest dishes to foodies, celebrities and locals alike. Their warm décor and seasonal menu along with an air of casual class enhance the dining experience. Come out to Lago where Europe meets the West Coast and enjoy the outdoor patio for people watching and genuine California sunshine as well as some of the most imaginative Italian cuisine Los Angeles has to offer.