Marmalade Cafe - Wine List
Marmalade Cafe wine list is not available.

Recommended Restaurants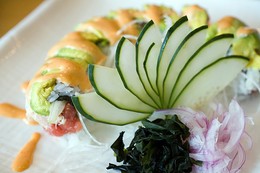 Nested in the center Newport's ritzy Fashion Island, Roy's offers a high-end dining experience which combines the freshest Pacific ingredients with European culinary techniques and Asian spices. While the service is not always spectacular, the food speaks for itself, from perfect lobster potstickers to perfect scallops to a dangerously palatable Hawaiian-style cosmopolitan. The atmosphere is dressy, yet comfortable, with a hipster musical playlist, older women wearing Chanel and pearls, and young girls in trendy boutique dresses. This is less of a place to be seen or treated like royalty, and more of a place to enjoy quality cuisine.
Address: 55 North La Cienega Boulevard, Los Angeles, CA 90211 (
Map
) - Tel:(310) 652-7673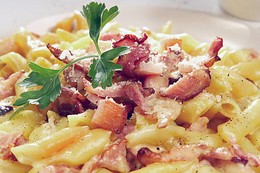 If your idea of a great meal is garlic, garlic, and more garlic, head to Restaurant Row on La Cienega and visit The Stinking Rose. Executive Chef and owner Andrea Froncillo has created a garlic lover's paradise, featuring great food in a wildly fun, garlic-themed atmosphere. Fantastic for large parties, the restaurant boasts a varied menu with specialties including roasted crab, prime rib, pastas, and giant tureens of steamed clams, all bathed in garlic. Don't forget to visit "Dracula's Grotto," one of many ornately decorated rooms, and to try Gilroy's Famous Garlic Ice Cream.
Address: 231 Arizona Avenue, Santa Monica, CA 90401 (
Map
) - Tel:(310) 451-3525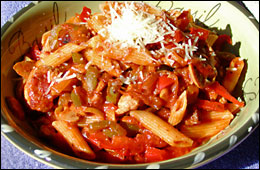 Locanda del Lago serves authentic cuisine from Bellagio and the Lake Region of Northern Italy. This Santa Monica locale overlooks Third Street Promenade and brings a taste of Italy to this coastal town. Since its opening in April of 1991, Lago has provided some of the tastiest dishes to foodies, celebrities and locals alike. Their warm décor and seasonal menu along with an air of casual class enhance the dining experience. Come out to Lago where Europe meets the West Coast and enjoy the outdoor patio for people watching and genuine California sunshine as well as some of the most imaginative Italian cuisine Los Angeles has to offer.