Spago - Beverly Hills - Wine List
Spago - Beverly Hills wine list is not available.

Recommended Restaurants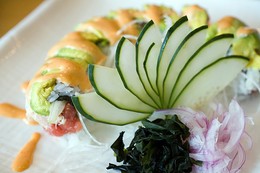 Nested in the center Newport's ritzy Fashion Island, Roy's offers a high-end dining experience which combines the freshest Pacific ingredients with European culinary techniques and Asian spices. While the service is not always spectacular, the food speaks for itself, from perfect lobster potstickers to perfect scallops to a dangerously palatable Hawaiian-style cosmopolitan. The atmosphere is dressy, yet comfortable, with a hipster musical playlist, older women wearing Chanel and pearls, and young girls in trendy boutique dresses. This is less of a place to be seen or treated like royalty, and more of a place to enjoy quality cuisine.
Address: 55 North La Cienega Boulevard, Los Angeles, CA 90211 (
Map
) - Tel:(310) 652-7673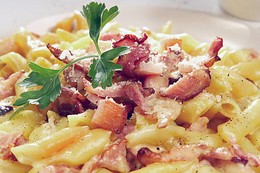 If your idea of a great meal is garlic, garlic, and more garlic, head to Restaurant Row on La Cienega and visit The Stinking Rose. Executive Chef and owner Andrea Froncillo has created a garlic lover's paradise, featuring great food in a wildly fun, garlic-themed atmosphere. Fantastic for large parties, the restaurant boasts a varied menu with specialties including roasted crab, prime rib, pastas, and giant tureens of steamed clams, all bathed in garlic. Don't forget to visit "Dracula's Grotto," one of many ornately decorated rooms, and to try Gilroy's Famous Garlic Ice Cream.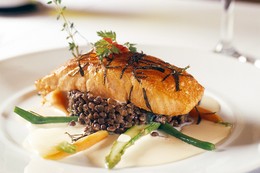 Adelmo Zarif's restaurant has occupied a dazzling Art Deco space in downtown's historic core since moving from West Hollywood in May 1997. Cicada fills the bottom two stories of the Oviatt Building, featuring towering mahogany pillars, plenty of gold, and pristine white tablecloths. Cicada is a fine-dining establishment that's especially popular for birthdays, weddings and the occasional marriage proposal. Tokyo native Suzay Cha prepares northern Italian cuisine with Asian accents. The menu changes twice a year, but typically includes Ahi Tuna Tartar with Avocado, Piquillo Peppers and Wasabi Caviar and Pappardelle with Filet Mignon Bolognese Sauce.