Cut - Wine List
Cut wine list is not available.

Recommended Restaurants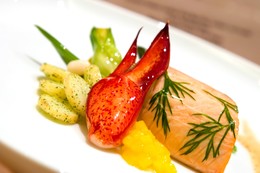 Located in Santa Monica, Melisse combines the sophistication of traditional French cuisine with contemporary American sensibilities, resulting in a truly elegant experience. The two-star Michelin rated restaurant features a menu reflecting seasonal and specialty items carefully selected and intricately prepared by Chef Josiah Citrin and his skilled kitchen staff. The Truffle Risotto carnaroli rice, mascarpone and shaved black truffles and the Broccoli & Quail Egg Agnolotti, young broccoli, brown butter and shaved black truffles are popular with guests. Dessert selections include Sticky Toffee Pudding and a classic Apple Tart. For an experience in refined French American cuisine, Melisse in Santa Monica is the vanguard.
Address: 11801 Ventura Blvd., Los Angeles, CA 91604 (
Map
) - Tel:(818) 623-8883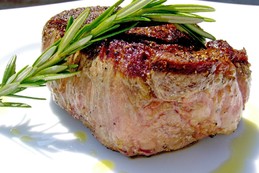 In May of 1999, Bill Chait, Danilo Terribili and chef Jeff Sladicka partnered to open this Studio City restaurant specializing in mesquite-grilled meat and seafood. The second floor hosts a sleek black lounge and a dining room framed by wine racks, but the real action is downstairs, in a boisterous dining room with views of the exhibition kitchen. At lunch, expect to find entertainment execs. During the week, Spark draws locals, and on weekends, it's a dater's playground. Signature dishes include Roman-style pizzas, grilled Atlantic salmon, and steaks. No matter what you order, save room for the house-baked apple walnut cobbler.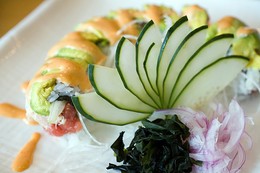 Nested in the center Newport's ritzy Fashion Island, Roy's offers a high-end dining experience which combines the freshest Pacific ingredients with European culinary techniques and Asian spices. While the service is not always spectacular, the food speaks for itself, from perfect lobster potstickers to perfect scallops to a dangerously palatable Hawaiian-style cosmopolitan. The atmosphere is dressy, yet comfortable, with a hipster musical playlist, older women wearing Chanel and pearls, and young girls in trendy boutique dresses. This is less of a place to be seen or treated like royalty, and more of a place to enjoy quality cuisine.