Ocean View: 24 Restaurants Found
Address: 20356 Pacific Coast Highway, Malibu, CA 90265 (
Map
) - Tel:(310) 456-3010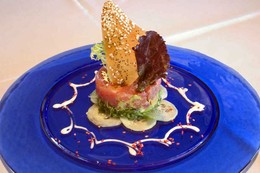 Moonshadows has been a Malibu institution since the 1960s, primarily due to the sweeping views of the Pacific. On weekdays, the restaurant is popular with locals and beachgoers. On weekends, the lounge and patio fill with a glitzier crowd that's craving nightlife. The menu found new life in 2003 with the addition of Chef Joachim Weritz. The native German infuses Asian and Mediterranean influences in contemporary California dishes like sake braised short ribs and crispy panko fried oysters with mirin-passion fruit mignonette. Managing Partner Andrea Bullo fine-tuned a 130-bottle wine list and garnered a 2007 Wine Spectator Award of Excellence."
Address: 3010 LaFayette Road, Newport Beach, CA 92663 (
Map
) - Tel:(949) 566-0060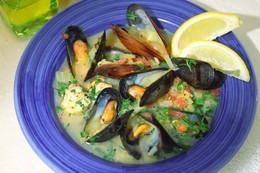 Housed in an old canning building overlooking the Newport harbor, the Cannery is a historical landmark reminiscent of the days when Newport harbor became a hub of the fishing industry. Along with an extensive seafood selection, the menu features traditional steaks and chops, along with a sushi and raw bar. The Cannery has five different dining areas which offer stunning views, including a outdoor patio and an Asian dining room with a full Japanese menu.
Address: 21100 Pacific Coast Highway, Huntington Beach, CA 92648 (
Map
) - Tel:(714) 960-7873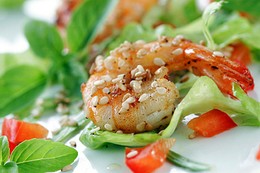 Shades Restaurant and Bar embodies the unpretentious elegance of its Huntington Beach location. Formerly the Palm Court, this fixture of the Hilton Waterfront has been given a vibrant new personality through its recent renovation. The restaurant's lively atmosphere is interpreted differently by its seating options: warm amber lighting and wood accents make for a chic indoor dining experience while the outdoor patio, with its ocean views and sunny tables, is the essence of coastal casual. Chef Jeff Littlefield's menu is dictated by seasonality, resulting in a quietly sophisticated cuisine that is the epitome of fresh. A meal at Shades is as crisp and refreshing as an ocean breeze.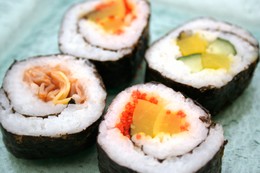 Santa Monica Beach sprawls out beyond the floor-to-ceiling windows that surround Catch's elegant dining space, and serves up awe-inspiring sunsets nightly. The restaurant's crisp décor incorporates colors one might find along the beach, and marries them seamlessly with the glistening mother of pearl sushi bar that invites diners to stay a while and indulge on the exquisitely fresh seafood selections Executive Chef Michael Reardon proudly showcases. Land and sea converge on the menu to offer an invigorating array of flavor. The Octopus Salad is and ode to the sea's vibrant fare and the Hand Made Ravioli are a hearty gesture of comfort.
Address: 4730 Crystal Springs Drive, Los Angeles, CA 90027 (
Map
) - Tel:(323) 661-7212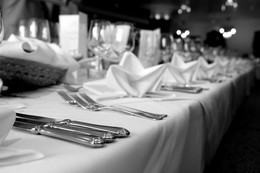 This historic clubhouse, built in 1937, displays a fusion of Spanish Revival Architecture and classic California design styles. Complete with large windows, rustic wood floors, and vaulted high beam ceilings, the clubhouse and its conjoining outside patio can accommodate up to 350 guests, and the view of Griffith Park in Los Feliz is breathtaking. Owned by the Monterey Concessions Group, this events venue can host an cater any event for any season, including Weddings, Anniversary Parties, Business Meetings, Baptisms, and much more. The cuisine for events, though upscale American cuisine, can be altered and created especially for your specific event. Working as both an event venue and an event planning service, The Wilson Harding Clubhouse is an elegant choice for your next gathering.
Address: 13813 Fiji Way, Marina del Rey, CA 90292 (
Map
) - Tel:(310) 823-4522
Gaze out over the waters of Marina Del Rey, and nestle in for a rousing seafood-inspired dining experience at Shanghai Red's. The restaurant's Polynesian, Victorian, and contemporary architectural elements complement the similarly diverse and refined menu, and the welcoming lounge and cocktail patios invite guests to linger a while and truly savor the reprieve. Weekends are reserved for an award-winning champagne brunch that boasts both traditional brunch items and a selection of ethnic specialties; nightly delights include dishes like the Spicy Ratatouille Pasta, the Blackened Swordfish Steak, and the Sizzling Top Sirloin.
Address: 1700 Ocean Avenue, Santa Monica, CA 90401 (
Map
) - Tel:(310) 458-6700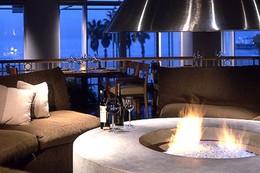 Opened in March 2005, Ocean and Vine is located in the gorgeous Loews Santa Monica Beach Hotel, next to Santa Monica pier. The swanky lobby sets the scene for an upmarket experience. The split-level, low-ceilinged room is attractive; the top level is dominated by a steel chimneyed fire pit, with striking artworks adding to the 'wow' factor. The cuisine, from Head Chef Robert Trester under the watch of Executive Chef Gregg Wangard, is Californian; each dish a showcase of local, seasonal ingredients. Dishes are near-faultless, and although prices are high, it's worth coming here for a splurge or special occasion.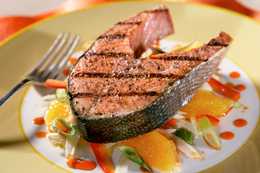 The menu at One Pico features modern American cuisine with a seasonal bent. Chef Andri Tscharner sources ingredients from local farms, weaving the seasonal produce into stunning, refreshing creations. Dishes might include such succulent renditions as Black Truffle Risotto with Butter Poached Maine Lobster, Snap Peas, and White Truffle Oil; Wild King Salmon with Artichokes, Swiss Chard, Applewood Bacon, and Bouillabaisse Sauce; or Colorado Lamb Loin with Heirloom Carrots, Braising Greens, Chick Peas, and Black Olive Jus. Enjoy Tscharner's fresh, contemporary cuisine in a casually elegant setting, surrounded by windows that offer gorgeous views of the Santa Monica beach.
Address: 4451 Admiralty Way, Marina Del Rey, CA 90292 (
Map
) - Tel:(310) 823-6395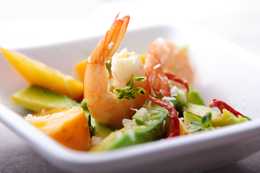 Gaze out over the marina and allow your mind to drift lazily like the boats against the docks as you savor the fresh and tantalizing fare Executive Chef Niederkorn serves up daily. Only twenty minutes from the harried rush of LAX, Café Del Rey transports diners from the bustle of humanity to the calm oasis of a foreign seaside town. Chef Niederkorn presents elegantly prepared and simply adorned seafood dishes that shine by their own freshness and flavor. The Black Spaghetti is made with prawns, calamari, lobster, and bay scallops; and the Mediterranean Meatloaf is taken to another level by a topping of black truffle gravy.
Address: 21150 Pacific Coast Highway, Malibu, CA 90265 (
Map
) - Tel:(310) 317-0777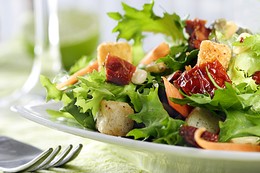 With its stunning ocean vistas, island décor, and fruity cocktails, Duke's Malibu is a relaxing paradise. Duke's is popular with both tourists and locals, providing a laid-back escape from the flurry of everyday stresses. Named after surfing and swimming legend Duke Paoa Kahanamoku, this Malibu homage brings Duke's distinctly Hawaiian legacy of island fun and beach culture to the spectacular Malibu coast. With their feet buried in the sand, and their bellies full of the freshest seafood, diners at Duke's satisfy their wanderlust for tropical getaways without having to stray far from the bright lights of Los Angeles.