Average cost $75 - $100 : 15 Restaurants Found
Narrow Results: By Popularity | By Name | By Location | By Cuisine
1 2
Adelmo Zarif's restaurant has occupied a dazzling Art Deco space in downtown's historic core since moving from West Hollywood in May 1997. Cicada fills the bottom two stories of the Oviatt Building, featuring towering mahogany pillars, plenty of gold, and pristine white tablecloths. Cicada is a fine-dining establishment that's especially popular for birthdays, weddings and the occasional marriage proposal. Tokyo native Suzay Cha prepares northern Italian cuisine with Asian accents. The menu changes twice a year, but typically includes Ahi Tuna Tartar with Avocado, Piquillo Peppers and Wasabi Caviar and Pappardelle with Filet Mignon Bolognese Sauce.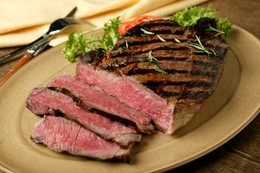 This modern American steakhouse owes its charm and signature style largely to Executive Chef and Partner Laurent Tourondel. Chef Tourondel showcases his years of experience working with both classic French techniques and innovative contemporary methods in this French bistro-inspired urban steakhouse menu. Seafood enthusiasts and devout carnivores alike may appreciate the spread he's laid out – the raw bar selection boasts delights like the Oysters, Littleneck Clams, and Jonah Crab Claws, and Kobe beef polishes the rich assortment of tasty prime cuts. Also, satisfying sides like the Jalapeno Mashed Potatoes and the Stuffed Squash Blossoms offer another element of satisfaction.
Address: 5955 Melrose Avenue, Los Angeles, CA 90038 (
Map
) - Tel:(323) 460-4170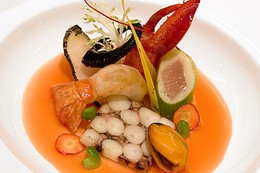 Inspired by coastal living, Providence in Mid Wilshire offers diners an assortment of the world's finest wild seafood and shellfish presented in a pure and simple form. Chefs Michael Cimarusti and Donato Poto have developed a menu of exceptional quality influenced by the treasures of the ocean. In addition to noteworthy cuisine and excellent service, an excellent selection of wine graces Providence's walls, showcased in an elegant glass cellar in the restaurant. Diners can order a la carte, a tasting menu, as well as the chef menu. For those looking to sample the tasting and chef menus, be aware that these multiple course meals take time, so plan accordingly. For some of the finest cuisine Los Angeles has to offer, book a reservation at Providence.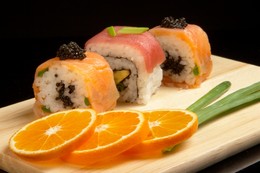 Matsuhisa located in Beverly Hills is a popular sushi restaurant among locals and celebrities. This sushi restaurant is owned by Executive Chef Nobu Matsuhisa, who owns several other successful restaurants around the world. The menu offers more than 100 dishes, but most people order the omakase tasting menu, featuring the chef's choice of sushi. The chef creates unusual and interesting dishes by combining Japanese food with South American spices and salsas. Be sure to make a reservation a week in advance because Matsuhisa has a small dining room. Their signature dishes to try are the toro with caviar and the uni shooter with bonito broth.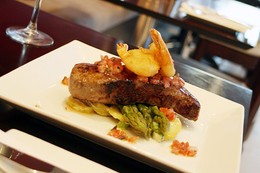 The newest incarnation of Tom Colicchio's New York institution, Craft Los Angeles offers a welcome oasis of East Coast gourmanderie. Best known as a recurring judge on Bravo's "Top Chef," Colicchio and his culinary team elevate the hearty simplicity of American cuisine to the heights of sophisticated artistry. The expansive, family-style menu can be as overwhelming as it is pleasing, with bounteous rewards for those who dive in wholeheartedly. The perfect finale to the meal is one of Pastry Chef Catherine Schimenti's sweet and savory concoctions. The vast dining room with its golden accents and minimalist décor presents a clean and inviting backdrop for Craft's culinary delicacies.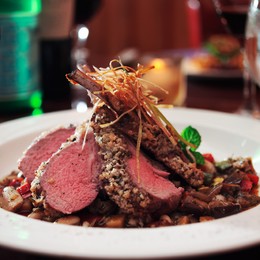 On the 24th floor of the Ritz Carlton in Downtown Los Angeles is WP24 by Wolfgang Puck. The location offers patrons breath-taking panoramic views of downtown, just a stone's throw from LA Live and the Staples center. The lounge at WP24 is a fine place to grab a bite to eat and a quick drink before a game, concert, or show. This Chinese-Fusion Bistro offers diners two Prix Fixe choices, a three-course and four-course meal, should they choose to dine in the main restaurant. Popular entrees include the Peking Duck, "Angry" Two-Pound Live Maine Lobster, and Whole Sea Bass Baked in a Fragrant Salt Crust. Portions are generous, and the cuisine is of the execution and quality that has made Wolfgang Puck world famous. For a great night out on the town, with a spectacular view to match, WP24 delivers.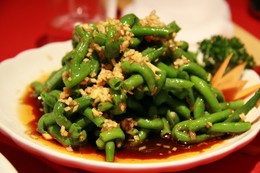 Its sleek, artsy aesthetic, chic clientele, and inventive twists on traditional Chinese cuisine have distinguished Mr. Chow as a Beverly Hills hot spot. Avid art collector, restaurateur, and self-proclaimed Renaissance man, Michael Chow has a sixth sense for detecting the direction of cultural zeitgeists, producing numerous restaurants that instantly become magnets for all who are harbingers of cool. Mr. Chow's Beverly Hills location is no exception, attracting celebrities, artists, and their adoring public. With its stylish black and white décor, original Andy Warhols, and mouthwateringly decadent dishes, even the most proletariat of diners can treat themselves to a night of Hollywood glamour and posh pampering at Mr. Chow.
Address: 8741 Alden Drive, Los Angeles, CA 90048 (
Map
) - Tel:310.859.8833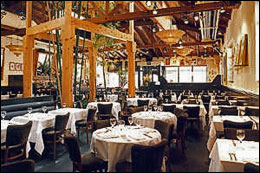 Located just off fashionable Robertson Boulevard in Beverly Hills, Chaya Brasserie has remained an enduring success for nearly thirty years, catering to an endless stream of discriminating diners and celebrities, as well as a loyal following that continues to return nightly. The lure is the distinctive East meets West cooking by Executive Chef Shigefumi Tachibe, who first introduced Los Angeles to Franco-Japonaise cooking at the legendary La Petit Chaya in the early 1980s. At Chaya Brasserie, Chef Tachibe blends exotic ingredients and time honored traditions from his native Japan to create an inspired menu. The use of local and sustainable ingredients, fresh from the weekly farmers market, ensures a menu based on seasonal and locally available produce. For a dining experience not soon to be forgotten, Chaya Brasserie in Beverly Hills provides patrons an unforgettable fusion of tradition and progression.
Address: 9560 Dayton Way, Beverly Hills, CA 90210 (
Map
) - Tel:(310) 276-0615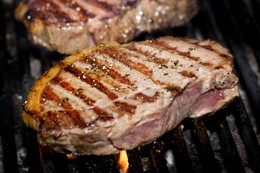 The Grill on the Alley in the heart of Beverly Hills serves classic American food in a warm and unpretentious atmosphere. The Grill, created and modeled after great grills in San Francisco and New York, has earned an international reputation for its quality and consistency. There are mirrored walls and chandeliers hang from the ceiling. As for the food, The Grill presents simple comfort food in generous portions. A dish to try is the Braised Short Ribs that fall off the bone because they are so tender. The Grill is a great power lunch spot as well as a place to conduct business. For no nonsense classic American Grill cuisine, The Grill on the Alley is the place.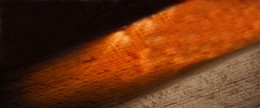 Opaque in Santa Monica offers diners a one of a kind culinary experience. One that is proposed to enhance the senses of taste, smell, touch, and hearing by abandoning one that we often take for granted, Opaque is "Dining in the Dark". The straightforward menu offers diners the entrée choice of Filet Mignon, Roasted Herb Chicken Breast, Seared Atlantic Salmon, or Sun-Dried Tomato Pesto Rigatoni. Dessert is either a Mango Panna Cotta or Warm Chocolate Lava Cake. Blind servers aid guests with tips on how to approach dining free of sight, and a portion of the bill goes towards blindness research. For a one of a kind dining experience not soon forgotten, visit Opaque.
Narrow Results: By Popularity | By Name | By Location | By Cuisine
1 2