Marina del Rey: 4 Restaurants Found
Address: 13813 Fiji Way, Marina del Rey, CA 90292 (
Map
) - Tel:(310) 823-4522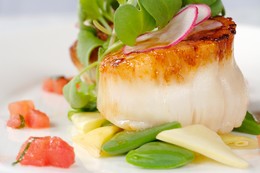 Gaze out over the waters of Marina Del Rey, and nestle in for a rousing seafood-inspired dining experience at Shanghai Red's. The restaurant's Polynesian, Victorian, and contemporary architectural elements complement the similarly diverse and refined menu, and the welcoming lounge and cocktail patios invite guests to linger a while and truly savor the reprieve. Weekends are reserved for an award-winning champagne brunch that boasts both traditional brunch items and a selection of ethnic specialties; nightly delights include dishes like the Spicy Ratatouille Pasta, the Blackened Swordfish Steak, and the Sizzling Top Sirloin.
Address: 11938 West Washington Boulevard, Los Angeles, CA 90066 (
Map
) - Tel:(310) 397 0700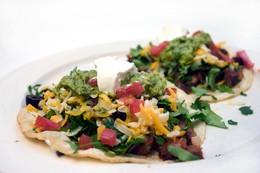 Rod Rotondi, founder and Executive Chef of Leaf Organics, is a culinary expert whose tireless crusade to bring organic foods into the mainstream has reached some of SoCal's main retailers like Mother's Markets, Rainbow Acres, Erewhon, and Whole Foods Markets. Rod's dream was to create an eatery where diners can make healthy and positive changes in their lives. His dream came true and Leaf Organics is now the place to go to when you want to eat from a unique and organic menu. Creative and original items include salads, veggie burgers, rice and noodle bowls, pizza, vegan desserts, chai with soymilk, organic coffee, and more!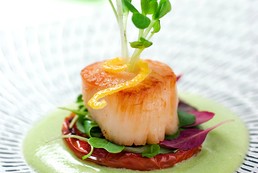 Jer-ne Restaurant at the Ritz-Carlton is one of Los Angeles' only waterfront restaurants. With an exquisitely classical appearance it's no surprise that the food tastes just as luxurious. Executive chef Fabian Ludwig has over twenty years culinary experience and it shows in the delicate yet tantalizing dishes he creates. Offering, brunch, lunch, and dinner there are many delicious dishes to choose from including the Maine lobster gratinee and the New York Reuben. With so many different menu options why wouldn't you want to go try Jer-ne?
Address: 4451 Admiralty Way, Marina Del Rey, CA 90292 (
Map
) - Tel:(310) 823-6395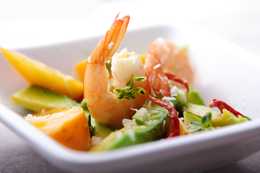 Gaze out over the marina and allow your mind to drift lazily like the boats against the docks as you savor the fresh and tantalizing fare Executive Chef Niederkorn serves up daily. Only twenty minutes from the harried rush of LAX, Café Del Rey transports diners from the bustle of humanity to the calm oasis of a foreign seaside town. Chef Niederkorn presents elegantly prepared and simply adorned seafood dishes that shine by their own freshness and flavor. The Black Spaghetti is made with prawns, calamari, lobster, and bay scallops; and the Mediterranean Meatloaf is taken to another level by a topping of black truffle gravy.