Santa Monica: 32 Restaurants Found
Address: 231 Arizona Avenue, Santa Monica, CA 90401 (
Map
) - Tel:(310) 451-3525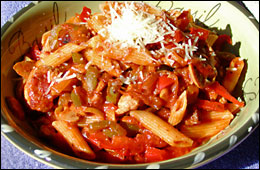 Locanda del Lago serves authentic cuisine from Bellagio and the Lake Region of Northern Italy. This Santa Monica locale overlooks Third Street Promenade and brings a taste of Italy to this coastal town. Since its opening in April of 1991, Lago has provided some of the tastiest dishes to foodies, celebrities and locals alike. Their warm décor and seasonal menu along with an air of casual class enhance the dining experience. Come out to Lago where Europe meets the West Coast and enjoy the outdoor patio for people watching and genuine California sunshine as well as some of the most imaginative Italian cuisine Los Angeles has to offer.
Address: 1212 3rd Street Promenade, Santa Monica, CA 90401 (
Map
) - Tel:(310) 576-9996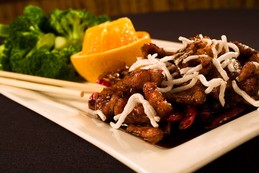 Dining at the Monsoon Café is a relaxing, spiritual experience provided by a unique atmosphere and fresh food. Even before diners walk through the door they are hypnotized by a pair of soothing yet intriguing eyes that adorn the front of the restaurant. The restaurant itself looks like a two story Eastern temple high ceilings and dazzling lighting fixtures, with lots of gold trim adorning columns and walls alike. There is plenty of seating in an open courtyard, with plenty of shade for even the sunniest days. Night is an exciting time at the Monsoon Café, with Salsa lessons and performances on Wednesdays and Saturdays and DJ battles on Friday nights.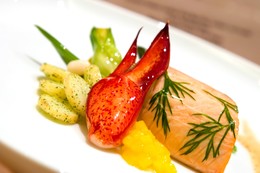 Located in Santa Monica, Melisse combines the sophistication of traditional French cuisine with contemporary American sensibilities, resulting in a truly elegant experience. The two-star Michelin rated restaurant features a menu reflecting seasonal and specialty items carefully selected and intricately prepared by Chef Josiah Citrin and his skilled kitchen staff. The Truffle Risotto carnaroli rice, mascarpone and shaved black truffles and the Broccoli & Quail Egg Agnolotti, young broccoli, brown butter and shaved black truffles are popular with guests. Dessert selections include Sticky Toffee Pudding and a classic Apple Tart. For an experience in refined French American cuisine, Melisse in Santa Monica is the vanguard.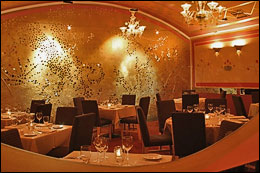 At Valentino, Piero Selvaggio's flagship restaurant, freshness is not just a priority, it is a passion. Executive Chef Angelo Auriana, who has been with the restaurant for close to 18 years, seeks out the finest ingredients, often returning to his homeland for superior quality. Whether it is cheese from Puglia or white truffles from Piedmont, Auriana's menu incorporates the grandest treasures in the culinary worlds. The menu changes seasonally, but you might find dishes such as San Daniele Prosciutto with Tirloese speck and melon pearls, Ricotta gnocchetti with walnuts and four-cheese sauce, and Colorado lamb chop with Gorgonzola and port wine reduction. The Chef's tasting menus offer an excellent way to experience multiple small courses with wine pairings, especially with a wine list that boasts over 2,500 selections. The décor is both stylish and timeless, creating an elegant space in each of Valentino's five intimate dining rooms that seems ideally suited to Valentino's cuisine.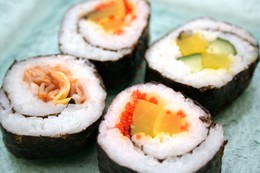 Santa Monica Beach sprawls out beyond the floor-to-ceiling windows that surround Catch's elegant dining space, and serves up awe-inspiring sunsets nightly. The restaurant's crisp décor incorporates colors one might find along the beach, and marries them seamlessly with the glistening mother of pearl sushi bar that invites diners to stay a while and indulge on the exquisitely fresh seafood selections Executive Chef Michael Reardon proudly showcases. Land and sea converge on the menu to offer an invigorating array of flavor. The Octopus Salad is and ode to the sea's vibrant fare and the Hand Made Ravioli are a hearty gesture of comfort.
Address: 114 West Channel Road, Santa Monica, CA 90402 (
Map
) - Tel:(310) 573-1660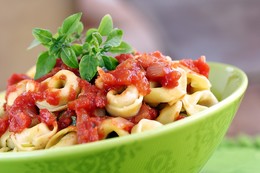 Ristorante di Giorgio Baldi is a family managed restaurant that has been serving the Los Angeles area for over fifteen years. The restaurant offers simplicity, authenticity, the love for tradition, and full respect for their customers. Try such dishes as Risotto with roasted peppers and Dungeness crab or Sweet Corn Agnolotti with mascarpone and truffle butter. They even sell their own tasty sauce so you can make your own dishes at home. This is nice place for getting together with family and friends to enjoy a good meal and wonderful service.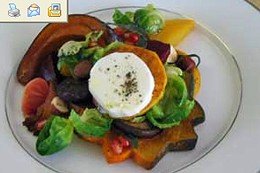 Josie, aptly named after Chef Josie, combines healthy and tasty to create mouth watering dishes such as Pan Seared Duck with Savory Hawthorn Berry Sauce and the Rib-eye Steak with Pop's Peppercorn Sauce. The restaurant prides itself on using natural and organic food in many of their dishes. The rustic and refined feel emanates from the sand-blasted wooden ceiling beams to the modern skylight. There is a mixture of old country warmth and contemporary sophistication that interplays perfectly with Josie's menu. With so many great dishes you will want to come back again and again.
Address: 108 W. Channel Road, Santa Monica, CA 90402 (
Map
) - Tel:310-230-9100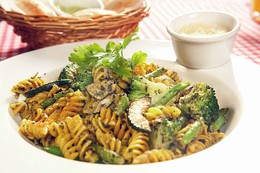 With nearly every new restaurant offering some sort of fusion cuisine today, Sam's by the Beach rises above the rest and delivers fresh, smart food in an intimate neighborhood setting just off Pacific Coast Highway. The seasonal menu includes traditional California basics that seem familiar until the taste reveals unique Mediterranean details. The unassuming outside belies the quiet romance waiting inside. Dedicated staff members cater to your every dining need, implementing a special menu if requested and treating each patron as a regular. Visit this surprising getaway to relearn all your old favorites.
Since 1979, Michael's has presented modern American cuisine with a French influence. The decor is light and airy, with a spacious, uncluttered dining room featuring modern art from an array of great contemporary artists. The lush, serene patio garden allows guests a chance to enjoy the Southern California weather while dining. An extensive wine list includes more than eight hundred labels from California, France, Italy, and wine growing regions from across the globe. The secluded garden, landscaped with a variety of trees, exotic flowers, and flowing fountains, creates an ambience ideal for a garden party, a relaxing meal, or romantic dining.
Address: 1520 Olympic Boulevard, Santa Monica, CA 90404 (
Map
) - Tel:(310) 450-8600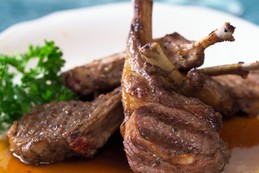 The Buffalo Club looks like your typical bar from the street, but on the inside it is transformed into a restaurant that looks like the inside of an old classic railway car. There are burgundy booths, antique mirrors, and mahogany that give off a dark and intimate setting. The Buffalo Club also has an outdoor patio where guest can dine among Chinese silk lanterns, soft lighting and a beautiful garden setting. This restaurant presents guests with regional American cuisine while taking inspiration from the South, New England, the Southwest, and California. One of their most popular dishes is the Chicken Pot Pie baked in an old-fashioned biscuit crust and smothered in the chef's original "Supreme Sauce."