Brentwood: 7 Restaurants Found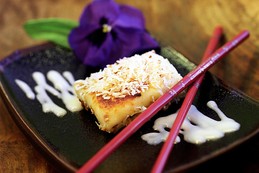 Your senses may revel in the stunningly engaging décor and modern Japanese cuisine menu presented at Katsuya. Executive Chef Katsuya masterfully crafts traditional sushi rolls and distinctive specialty dishes to please more seasoned and fresh palates alike. Dishes like the Crispy Rice and Spicy Tuna and the Kobe Filet with Foie Gras have developed their own loyal following. Chef Katsuya's artful menu is complemented and heightened by the truly innovative and equally satisfying décor of designer Philippe Starck. Striking contrasts of black and white capture snippets of moments for patrons to muse over as they dine in the appetizing "wooden bento box" space.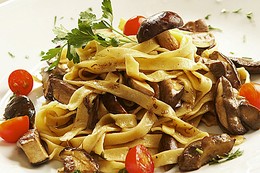 Toscana sits in the heart of Brentwood and offers simply delicious Northern Italian dishes. Wrapped in posters of old Italy, the dining room has a rustic decor and low key atmosphere. Try such dishes as Brasato Al Barolo, braised beef with Barolo wine served with spinach and mashed potatoes, or the San Pietro Al Limone, John Dory with lemon and capers. Toscana even has their own cookbook available for those who want to try to cook up some of these delightful dishes in their own home. They even offer take-out for any item on the menu! Give your taste buds a much needed vacation and escape to Toscana.
Address: 11930 San Vicente Boulevard, Los Angeles, CA 90049 (
Map
) - Tel:(310) 207-0127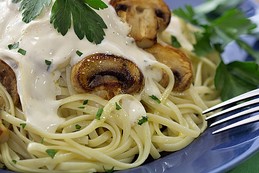 Vincente offers an intimate setting and a sleek, yet unpretentious, atmosphere that blends the dining room and open kitchen seamlessly. Diners are treated to Chef Nicola Mastronardi's unique Italian cuisine, from house made pastas to wood-fired rotisserie. Paying homage to the restaurant's namesake, the late Mario Vincente, the restaurant follows his vision of a small-scale venue where diners can simultaneously learn about Italian cuisine while enjoying the Chef's enticing creations.
Address: 11754 San Vicente Blvd, Brentwood, CA 90049 (
Map
) - Tel:(310) 447-7898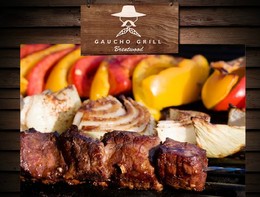 Providing an exquisite menu that features Argentinean cuisine in a hip environment, Gaucho Grill in Brentwood creates palate teasing dishes that guests will enjoy. The menu showcases an arrangement of delicious dishes that utilize Latin herbs and spices like the New York Santa Fe, a succulent 10 ounce Grilled New York steak with sautéed mushrooms over a white wine sauce or the Suprema Napolitana, breaded chicken breast lightly fried with tomato sauce and melted mozzarella cheese. Both use traditional Latin cooking techniques and flavor combinations. Gaucho Grill also offers burgers and sandwiches like the Chicken Chimichurri burger that couples an American staple with a Latin flavor palate, and for the less adventurous, the Angus Cheeseburger with Swiss is also featured on the menu. With its clean, chic atmosphere meshed with traditional yet slightly modern dishes, Gaucho Grill is a fantastic choice for dinner with friends or a romantic date with a loved one, and the service and visually appealing atmosphere will surely entice guests to come back for more.
Address: 225 26th Street, Suite 51, Los Angeles, 5 90402 (
Map
) - Tel:(310) 260 - 2663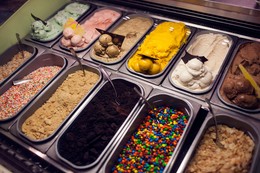 Sweet Rose Creamery offers small batches of homemade ice cream to those looking for a cool treat in Brentwood. The fine folks at Sweet Rose use only organic ingredients in creating their fabulous flavors, and never use any stabilizers or ice cream bases. Toppings, cones, sauces, and ice cream sandwiches are made from scratch on a daily basis, so patrons can rest assured that freshness is at the forefront at Sweet Rose Creamery. Ice cream flavors feature rotating staples like Peanut Butter with Brownie Bites, Ginger with Honey, and Toasted Coconut with availability throughout the year. Classics like Old Fashioned Vanilla, Salted Caramel, and Fresh Mint with Homemade Chocolate Chips are available every day. Flavors like Apple pie and Cookie dough are based on what is available at the Farmer's Market, and change on a monthly basis dependent on seasonal ingredients. When a craving calls that only ice cream can satiate, Sweet Rose Creamery has the cure.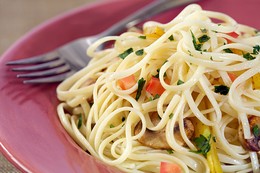 Sor Tino in Brentwood is a casual Italian hotspot that serves variations of traditional Florintine cuisine, in the form of Chef Agostino Sciandri's signature homemade pastas, risottos, and brick oven pizzas. The ochre-colored dining room features a wood-burning oven turns out thin-crusted pizzas, while entrees from the open kitchen such as sea bass with tomatoes and rosemary-grilled chicken, provide substantial fare for guests looking for a hearty meal. Guests rave about the Gnocchi, Lobster Ravioli, and Parpadelle with Wild Boar Ragu. For a taste of good Norther Italy cuisine in the heart of Brentwood, Sor Tino is a fine option.
Address: 11712 San Vicente Blvd., Los Angeles, CA 90049 (
Map
) - Tel:(310) 826-9222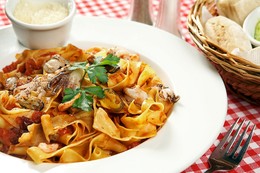 One of Brentwood's premier Italian restaurants, Osteria Latini offers an expertly executed and eclectic array of Northern Italian cuisine. Head chef and owner Paolo Pasio brings his extensive knowledge from years as a restaurateur to this, his grandest achievement. The bistro-style of the restaurant, with it's pine walls and dark wood floors, sets an intimate setting perfect for a quiet dinner with the family, or a romantic dinner with that special someone. A wide range of daily specials such as the Suckling Pig, Homemade black and white linguini with Lanostinos, and Osso buco with saffron risotto assures that regular diners will have something exciting to dine on upon return visits.