Beverly Hills: 39 Restaurants Found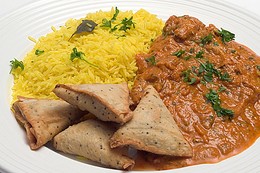 Sleek, sexy, and chic, Nirvana in Beverly Hills takes fine dining to the next level. With comfortable sofas and canopy beds, Nirvana offers some of Beverly Hills' most enticing Indian cuisine. Diners can enjoy the warmth of the fireplace on their breezy patio while partaking in the lounge atmosphere and romantic ambiance of the Kama Sutra themed restaurant. A treat for the senses as much as for the palate, a koi pond, statue of Ganesha, and an indoor "stream" all add to the unique atmosphere present at Nirvana. The next time the appetite calls for Indian food, and the senses call for an intimate setting, Nirvana in Beverly Hills is the perfect destination.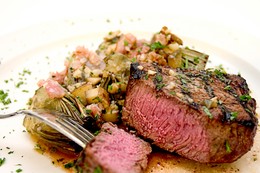 Up the stairs of the Via Rodeo, on the corner of Wilshire Boulevard and Rodeo Drive is 208 Rodeo. A quaint and casual fine dining experience, 208 Rodeo has elegant outdoor patio dining that is perfect for people watching or just relaxing with old friends. The restaurant serves modern American cuisine made up of eclectic influences from around the world. Chef Alejandro Arrieta focuses on technique and ingredients when dishing up his signature cuisine. With a varied selection from the breakfast, lunch, dinner, and dessert menu, 208 Rodeo gives those looking to take a respite from the hustle of Rodeo Drive a place to dine and relax.
Address: 9601 Brighton Way, Beverly Hills, CA 90210 (
Map
) - Tel:(310) 859-7600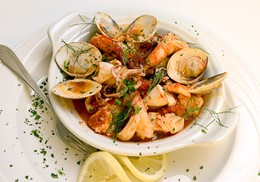 Glamorous and chic, Villa Blanca in Beverly Hills is as stylish and elegant as it is delicious. Both dinner and lunch menus offer savory Mediterranean seafood and pasta options for the delight of diners. Frequented by various celebrities, Villa Blanca restaurant is a great place to people watch, or meet with friends for a tasty luncheon date. The wide selection of wines from Italy, France, Argentina, and California make it even more enticing, not to mention the vast cocktail menu. Come enjoy the restaurants sultry ambiance, of the upscale shabby chic Villa Blanca.
Address: 9646 S. Santa Monica Blvd, Beverly Hills, CA 90210 (
Map
) - Tel:(310) 205-8990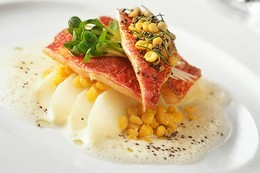 Crustacean in Beverly Hills offers award-winning Euro-Vietnamese cuisine in a stunning atmosphere. Entering through the cocktail lounge, guests first experience the restaurants famous "walk on water" as they follow a weaving path atop a floor-level aquarium to the main dining room. Seated amid French-Colonial décor, the menu entices the senses with selections such as Shaken Beef flambéed in Chardonnay and Rice Ravioli in a soy-sesame emulsion. Dishes "From An's Secret Kitchen" are especially enticing; although the entire menu, down to the desserts, demonstrates a talented mastering of unique fusion cuisine. The excellent wine menu contains recommended pairings listed beneath each respective dish.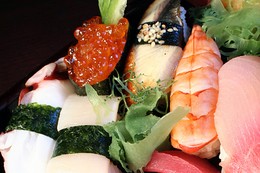 Urasawa in Beverly Hills offers one of the most exclusive Japanese dining experiences in California. The tiny establishment, which seats about 10 people at a time, has no menu; rather diners are presented 29 courses of owner and Chef Hiroyuki Urasawa's triumphant Kaizeki preparations. The formal meal presents a succession of small and meticulous dishes, each carefully crafted to accentuate the natural flavors of seasonal ingredients, many of which have been flown in from Japan earlier in the day. Chef Urasawa's attention to detail stretches beyond the plate, with 300-year old antique tableware and an exclusively French wine list. It is the dishes where his craft truly shines however. Diners at Urasawa are treated to cuisine prepared with a gentle hand, presented exquisitely, and of a quality so unrivaled, it threatens to ensure that after a four-hour dinner at Urasawa, no meal will seem the same.
Address: 9101 Wilshire Blvd, Beverly Hills, CA 90210 (
Map
) - Tel:(310) 278-3699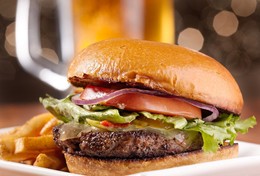 Kate Mantilini in Beverly Hills is not just another diner it is a local landmark. Proprietors Harry and Marilyn Lewis established Kate Mantilini in 1987 after selling their first foray into the restaurant business, Hamburger Hamlet, which the couple opened together in 1950. The menu at Kate Mantilini is extensive, with deli classics, gourmet diet fare, mountainous salads, and refined entrees like pork chops and frog legs. Open from early morning to late at night, and always packed with celebrities, wheeling-and-dealing producers, post-theater diners, and retirees, this upscale yet casual joint has something for everyone. Breakfast is served all day, so should patrons have a craving for the famous Gran Marnier French toast at 9:00 p.m., they need not hesitate to do so. For a slice of simple American diner fare in the heart of Beverly Hill, Kate Mantilini is the place to go.
Address: 9601 Wilshire Blvd, Beverly Hills, CA 90210 (
Map
) - Tel:310-888-8160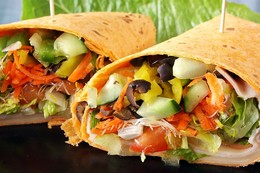 Every aspect of Oliver Café in Beverly Hills represents top talents in the fields of design, business management, and innovative cuisine. Combining the culinary talents of Chef Francisco Ochoa with the restaurant acumen of Mario Oliver and the genius of interior designer, Dodd Mitchell, Oliver Cafe offers an irresistible and contemporary backdrop for breakfast, lunch, chill-out hour, or dinner. The menu features health conscious dishes, with certain items endorsed by the house "Register Dietician" to fall within a certain specified caloric range. For those in Beverly Hills looking for something light to nosh on, give Oliver Café a try.
Address: 8555 Beverly Blvd., Los Angeles, CA 90048
Address: 345 North Maple Drive, Los Angeles, CA 90210