South Bay: 8 Restaurants Found
Address: 6805 Vista Del Mar Lane, Los Angeles, CA 90293 (
Map
) - Tel:(310) 823-1530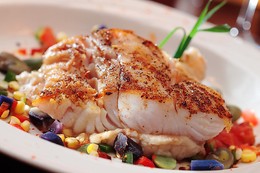 The mere sight of Bistro du Soleil's exterior peaks the appetite. A slight wedge of a building splashed in country yellow and blue, Bistro du Soleil evokes the comfort of a French cottage in the easygoing beach community of Playa Del Rey. The menu features a number of French Classics, splashed with some So-Cal twists. Patrons can choose between French Onion Soup or Black Bean with lime and sour cream. Brie cheese is nestled atop juicy bistro burgers or slipped into pear quesadillas. Bistro du Soleil provides a touch of Europe in a comfortable beach setting. The food teeters between elegance and simplicity, and offers an ideal setting for a casual meal or a romantic evening.
Address: 1550 Rosecrans Avenue, Suite G, Manhattan Beach, CA 90266 (
Map
) - Tel:(310) 536-0730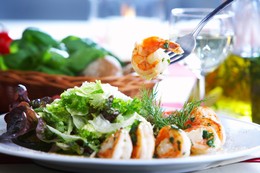 A South Bay fixture since 1991, laid-back Lido di Manhattan occupies a commanding corner site. The restaurant is bright and open, with artwork by local artist Monica Farrell. The cuisine is California-Italian, with a heavier lean towards the latter. Signature dishes such as lobster won ton tacos, angel hair pasta with jumbo scallops and tiger prawns and charbroiled filet mignon showcase fresh ingredients. The sweet selection of Desserts are all made in house. Wine buffs will find plenty to please, while cocktail lovers can work their way through the lengthy list. A calendar of cooking classes and events keeps things interesting for both regulars and newcomers.
Address: 317 Manhattan Beach Blvd, Manhattan Beach, CA 90266 (
Map
) - Tel:(310)545-5252
For 30 years Café Pierre has offered the Manhattan Beach area consistent, authentic, and exciting cuisine. The restaurant has perfected the seamless integration of food and service, stemming from Chef and Owner Guy Gabriele's passion for food and wine. The menu is mostly French and Italian, with subtle influences from Asia, South America, and the Middle East. Dishes such as Steak au Poivre and Linguini Frutti di Mare remain authentic to their traditional roots while integrating Gabriele's signature twist on each dish. Recognizing the pleasures in pairing food and wine, Café Pierre offers an engaging wine list with over 600 entrees, and of course, a comfortable setting with appealing décor.
Address: 3501 Sepulveda Blvd., Manhattan Beach, CA 90266 (
Map
) - Tel:310-750-0312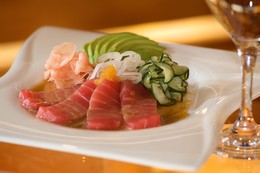 With a décor that emits an early 70's vibe and a compelling menu of American comfort food from Chef Vania Almeida, The Second Story Restaurant at The Belamar Hotel, situated less than a mile from the Pacific Ocean, draws a mix of hotel guests, locals, and neighborhood business people. Second Story serves three meals daily, with the most ambitious food surfacing at night, highlighted by horseradish crusted Alaskan halibut with organic mushroom risotto and honey roasted chicken breast with Parmesan polenta and roasted pistachio Brussels sprouts. The happy hour runs seven days a week and features 50% off numerous drink options and select menu items. A restaurant that bucks the "hotel restaurant" stigma, Second Story is a great choice for a night on the town, or any meal.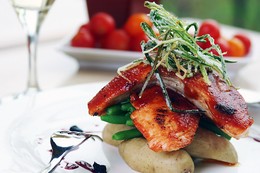 For delectable fusion cuisine, blending flavors of the Pacific Rim, Provence, and Tuscany, travel no further than Restaurant Christine. Chef and Owner Christine Brown created an eclectic menu that is both unique and flavorful, incorporating Asian, Mediterranean and French influences to offer a wide variety of tastes. Located in Torrance near the foot of Rolling Hills, Restaurant Christine feels like a cozy Mediterranean villa, and provides a relaxed setting to enjoy a meal with friends and family or perhaps celebrate a special occasion. A reasonably priced wine list, friendly service, and excellent fare make Restaurant Christine an experience worth repeating.
Address: 7420 La Tijera Blvd., Los Angeles, CA 90045 (
Map
) - Tel:310.645.7131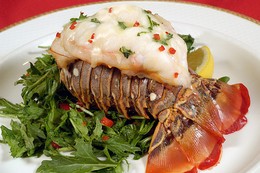 For over fifty years, the Buggy Whip has remained a prime destination for fine dining in Los Angeles. The classic cuisine and even more classic atmosphere hark back to an older time, when dining was entwined with elegance. Diners may savor an old-fashioned cocktail before favorites such as aged Filet Mignon and stone crab claws, all the while relaxing among regal red leather booths while live piano plays every Thursday, Friday, and Saturday in the background. Especially in trend-conscious LA, The Buggy Whip's reliability and consistency can be quite refreshing.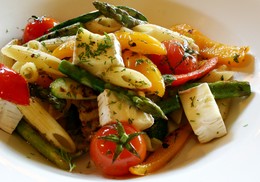 Serving "Hellenic-California Cuisine", the upscale Greek restaurant Petro's spices up the food scene in the Manhattan Beach area. Decorated in a Grecian fashion, the restaurant features white walls and arches in a light and airy space. The menu offers many variations of Greek dips served with grilled pita bread. Entrees like Lamb Pasta, with slow cooked lamb, roasted peppers, broccolini, olives, kefalotiri cheese, and oregano, and Lamb Pizza are available on the menu along with classic Greek dishes. Petro's also has a traditional Greek dessert menu where guests can order Baklava, Bougatsa, and other Greek favorites. For those looking for a highly refined Greek restaurant, Petro's fits the bill.
Address: 120 Manhattan Beach Blvd., Manhattan Beach, CA 90266 (
Map
) - Tel:310-379-9900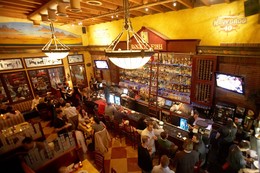 Situated in Manhattan Beach's downtown area, just a block away from the pier, Rock' N Fish is a local favorite offering a classic New Orleans styled dining room. Surrounded by tall ceilings and hand painted murals, the area appeals to a variety of moods and tastes. Oak grilled fish, signature sandwiches, and Alaskan king crab are some of the menu's highlights. The bar offers the restaurant's signature "Navy Grog" drink as well as one of the most extensive wine lists in the area. For a fine meal, strong drinks, and a great time, check out Rock' N Fish!